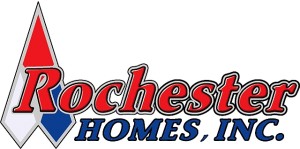 Rochester Homes
Modern Prefab Home Manufacturer
Quick Company Overview
We use modular construction to save time and money while building quality, customizable homes.
Modular construction is the same or better quality as traditional site built homes in less time, for less money.
Rochester Homes, Inc. is a family owned and operated modular construction company.
Rochester Homes works with qualified builders local to you, contact us for the builder in your area.
Rochester Homes installs name brand building supplies like Andersen windows, Kohler faucets, Owens Corning shingles, and more, in all homes.
Welcome to Rochester Homes Inc.
Rochester Homes is a modular homes manufacturer which means we build and construct your home at our location and then bring it to your site for finalization by the builders you select. This is one of the best ways to have a brand new home constructed at a more affordable price, a faster pace and with the specifications and customizations that you select. All Rochester modular homes feature the same beautiful detail work and quality craftsmanship that is available from a conventional builder. You will enjoy the varied selection of colors, features and add-ons that you can choose from when selecting our modular manufactured homes.
Local builders, Peace of mind
When you select a home from Rochester Homes you can rest assured that you are selecting only the best in quality and service. In addition because our modern prefab homes are completed by local builders, you will always have a local contact to touch base with during the design and construction process. Your local builder will provide you with service such as color selection, design, site estimation, site work and the necessary pricing to take our modular manufactured homes to your site.
Rochester Homes has been in business since 1972. In that time we have built thousands of homes and helped many new homeowners realize their ideal of new construction at fair prices and reasonable time frames. We are a family owned and operated company that specializes only in modular homes. You can be assured of our complete dedication and commitment to quality construction and excellence in service. We are one of the very few companies in the market place that offers the ability to build full custom modular homes. With a variety of styles, colors, and design options to choose from as well as green building practices, Rochester Homes provides everything you need to build the home of your dreams.